Book a low-cost rental car for Atlanta Airport today!
---
Are you looking for an economical car hire deal for Atlanta Airport? Book a rental car for ATL Airport online now and get discounted deals. We offer Economy, Standard, Minivan, SUV, Luxury, and Convertible car rental for Hartsfield-Jackson Airport at affordable rates. If you're visiting Georgia for vacationing or business, and need a rental car from Atlanta International Airport, choose VIP Cars for the best car at cheapest rates. You can also include useful add-ons such as additional driver and GPS navigation system in your ATL Airport car hire deal for hassle-free navigation and real-time traffic updates. Simply fill in your travel details, along with the pickup and drop-off locations, and choose a rental car that best suits your traveling requirements.
Benefits of booking a rental car for
Atlanta Airport from VIP Cars
No Hidden Charges

A one-stop destination for an affordable ATL Airport car hire, VIP Cars offers honest deals that come with no hidden charges.

Variety of Rental Cars

Widest variety of rental cars for ATL Airport, ranging from mini/compact to SUV/luxury.

No Hidden Charges

Standard insurances, including Collision Damage Waiver and Theft Waiver, part of every ATL car hire deal.

Add-ons

Multipurpose add-ons such as GPS navigation system, additional driver, and child seats available at competitive prices.

Online payment system

Highly secure online payment system equipped to accept multiple currencies.

Booking Support

24/7 booking support staff to handle your ATL rental car queries.
Rental car suppliers at Hartsfield-Jackson Atlanta International Airport
All the leading car hire suppliers, along with some domestic rental car companies, offer services at Hartsfield International. Car hire companies' desks are located at the Hartsfield–Jackson Rental Car Center. Ace, Alamo, Dollar, Enterprise, Europcar, National, Sixt, and Thrifty Tour operate their service desks at the Rental Car Center Parkway at ATL Airport.
Alamo
Europcar
Sixt
Thrifty
National
Dollar
Ace
Enterprise
Other rental car drop-off locations in Atlanta
Putting in every effort to make your trip a delightful experience, we offer 3 more rental car drop-off locations in Atlanta. As the one-way car hire from Hartsfield International is also a popular option, you can choose to drop-off your rental car at any of the following 3 locations.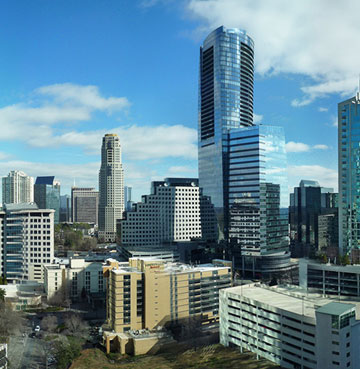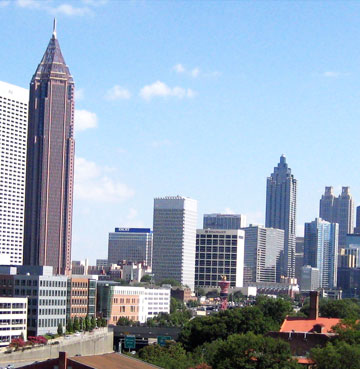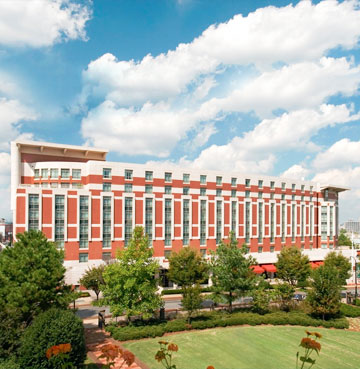 Popular one-way car rentals from Atlanta
---
VIP Cars' ability to cover multiple car hire drop-off locations across Georgia and as well as in the adjoining states of Alabama, Tennessee, South Carolina, and Florida gives you an option to book a one-way car hire from Atlanta. We spare no effort to stand true to our reputation of providing VIP service. With our network of car hire suppliers scattered across the country's length and breadth, you can book a one-way car hire deal from any location. Popular one-way car hire locations from Atlanta include: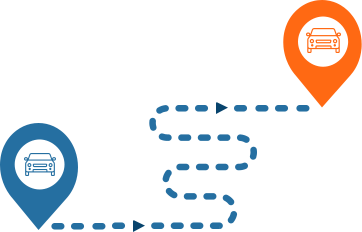 One-way car rental from Atlanta to Birmingham, Alabama
152 miles via I-20 W
One-way car rental from Atlanta to Nashville, Tennessee
250 miles via I-75 N and I-24 W
One-way car rental from Atlanta to Savannah, Georgia
248 miles via I-75 S and I-16 E
One-way car rental from Atlanta to Charleston, South Carolina
306 miles via I-20 E and I-26 E
One-way car rental from Atlanta to Orlando, Florida
439 miles via I-75 S
The main airport of Atlanta: Hartsfield-Jackson Airport
Situated about 7 miles away from the central business district of Atlanta, Hartsfield-Jackson Atlanta International Airport primarily serves the US state of Georgia. With its annual passenger handling capacity estimated to be around 100 million, the airport ranks among the busiest airports in the United States.
Hartsfield-Jackson consists of 2 passenger terminals namely – Domestic Terminal and Maynard Holbrook Jackson Jr. International Terminal – located on the western and eastern sides respectively. The airport's terminals, as well as all the concourses, are connected with moving walkways.
| | |
| --- | --- |
| Address: | Hartsfield–Jackson Atlanta Airport, 6000 N Terminal Pkwy, Atlanta, GA 30320, USA |
| IATA: | ATL |
Facilities at Atlanta Airport
Atlanta Airport terminals offer a wide range of passenger facilities. While enjoying browsing on a free Wi-Fi, which is available throughout the airport, you can savor delicious food in any of the restaurants and go for shopping at bookstores, gadgets' outlets, and several others merchandise stores. As the airport actively promotes performing arts, you can also expect a spellbinding live performance.
Atlanta Airport Rental Car Center
Look for signposts mentioning 'Consolidated Rental Car facility' (CONRAC). Use the escalator to reach the station and board the ATL SkyTrain, which takes less than 10 minutes to reach CONRAC.
If you're planning to return the rental car at ATL Airport, you can do it with utmost ease as the ATL SkyTrain connects the airport terminals with Rental Car Center.
Atlanta International Airport parking
Conveniently accessible via the Atlanta Airport shuttle, the 24/7 car parking is available at the international and domestic terminals.
On-site car parking at ATL is available at Interstates 75/85, Camp Creek Parkway, and the Riverdale Road.
Shopping at Atlanta Airport
Hartsfield-Jackson Atlanta International features a massive retail space that is home to more than 90 retail stores and 60 service centers, including postal services and spas. Given below are the names of leading shopping stores at Atlanta Airport.
InMotion Entertainment
A leading electronics retail chain specializing in selling headphones, tablets, cameras, speakers, and other accessories.
Simply Books
A one-stop destination for buying a wide range of fiction and nonfiction books, magazines, and travel guides.
The Body Shop
The retail store is known for its collection of beauty products, bathing minerals, wellness solutions, and cosmetics.
Duty-Free Americas
The duty-free merchandise store stocks a huge assortment of liquor, spirits, tobacco products, and cosmetic goods.
Bijoux Terner
A well-known fashion retail store that features a wide range of accessories such as pashminas, watches, and necklaces.
Luxe International
The shopping outlet is known for its selection of apparels for men and women, and a variety of fashion accessories.
Dining at Atlanta Airport
Expect the very best of airport food at Hartsfield-Jackson International that is home to more than 100 restaurants and fast-food joints. Owing to the influx of newly established food retail chains, the airport is replete with dining options that look promising. We present you with the names of leading eating joints at Atlanta Airport.
Phillip's Seafood
The restaurant chain is famous for its crab cakes and a variety of Maryland-inspired seafood recipes.
One Flew South
The restaurant is famous for its cocktails and sushi menu made from high-quality ingredients sourced locally.
Grindhouse Killer Burgers
Besides offering a wide variety of burgers on a potato bun, Grindhouse is known for its bar that opens from 9 am.
Varasano's Pizzeria
The Italian food specialist is renowned for its Italian and New York-themed pizzas, which come in a variety of toppings.
Paschal's Southern Cuisine
Expect the very best Southern cuisine at Paschal's, which besides offering southern delicacies serves fresh cocktails.
Five Guys
The fast-food joint serves burgers, crisp fries, hot dogs, and freshly prepared peanuts while you wait for your order.
Lounges at Atlanta Airport
Featuring all the latest passengers'-centric amenities, lounges at Atlanta Airport let you relax in utmost comfort. The following lounges are conveniently accessible after buying a lounge pass or by paying at the door.
American Airlines Admirals Club
Top attractions in Atlanta
One of the most diverse cities in the southern United States, Atlanta is known for its treasure trove of attractions and a lively urban landscape that extends well beyond its conventional boundaries. Explore the friendly neighborhoods in style with your ATL Airport rental car. Check out the list of most visited places in Atlanta: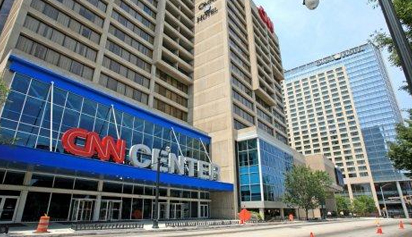 CNN Center
190 Marietta St NW, Atlanta, GA 30303, USA
Headquarters of the Cable News Network (CNN) is situated just adjacent to the Centennial Olympic Park. Also known as Omni Complex, the center features studios and newsrooms. You can also enjoy a delicious snack at the Omni Hotel's food court.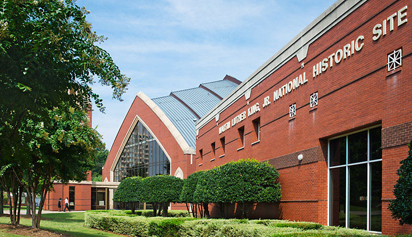 Martin Luther King Jr. National Historic Site
450 Auburn Ave NE, Atlanta, GA 30312, USA
It is an important historic site commemorating life and work of Martin Luther King Jr. Notable buildings include - home of Martin Luther King Jr. and the Ebenezer Baptist Church, Visitor Center, and a museum highlighting the American Civil Rights Movement.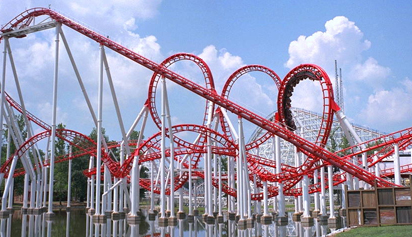 Six Flags Over Georgia
275 Riverside Parkway Southwest, Austell, GA 30168, USA
One of the biggest amusement parks in the United States, the Six Flags Over Georgia features themes and characters from DC Comics and Looney Tunes. Home to more than 30 rides, the park guarantees a fun-filled experience.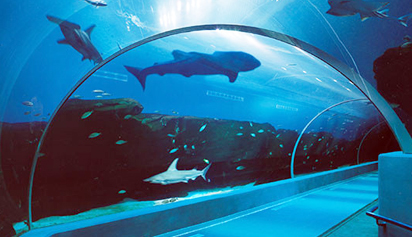 Georgia Aquarium
225 Baker St NW, Atlanta, GA 30313, USA
Home to more than 100,000 animals belonging to nearly 700 species, the Georgia Aquarium is one of the world's largest aquariums. In addition to several thousands of fish, the aquarium is notable for its whale sharks, California sea lions, and bottlenose dolphins.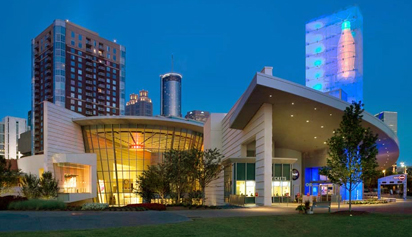 World of Coca-Cola
121 Baker St NW, Atlanta, GA 30313, USA
It is a famous museum attraction featuring the company's history alongside its firebrand commercials and a range of video presentations. Don't forget to enjoy a coke tasting session at the 'Spectacular Fountain'.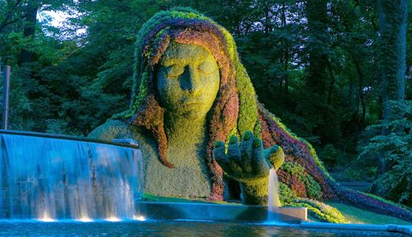 Atlanta Botanical Garden
1345 Piedmont Ave NE, Atlanta, GA 30309, USA
Aimed at conserving a large variety of plant collections, the garden covers a massive 30 acres. A leisure walk over the famous Kendeda Canopy Walk is worth considering as it allows you to literally walk over the lush urban forests.
Popular road trips

from Atlanta
Discover the South Georgia like never before with Hartsfield-Jackson Atlanta Airport car hire. With so many interesting towns as well as cities located within the 300-miles radius of Atlanta, a rental car from ATL is all you need to plan a memorable road trip. Have a look at the most popular road trips emanating from Atlanta to various places across Georgia and as well as in other nearby states.
Atlanta – Athens
Approx. Distance: 72 miles via I-85 N and US-29 N
An impressive college town that is also famous for its live music concerts, Athens is an incredible place. Besides enjoying its points of interest during the day, you can expect a lively nightlife to indulge in. Notable attractions in Athens include – American Civil War cannons, Georgia Museum of Art, State Botanical Garden of Georgia, St. Mary's Steeple, Globe Bar, Allen's Bar, and the University of Georgia Campus Arboretum.
Atlanta - Summerville
Approx. Distance: 89 miles via I-75 N
A one-stop holiday destination for nature lovers, your road trip to Summerville will simply take you back in time. Surrounded by a picturesque landscape and beautiful hills, Summerville is a charming place to spend time amid tranquil settings. Notable attractions in Summerville include - Chattooga County Courthouse and the Summerville Depot, a place known for hosting a variety of annual festivals.
Atlanta – Toccoa Falls
Approx. Distance: 93 miles via I-85 N, I-985 N, and US-23 N
A magnificent waterfall located in northern Georgia, Toccoa Falls is 26 feet higher than the iconic Niagara Falls. Awe-inspiring views are guaranteed as the waterfall falls from a formidable height of about 186 feet. A perfect picnic spot, Toccoa Falls is full of hiking trails and plenty of places where you can relax. As the waterfall is located on the outskirts, you'll have to drive past the Toccoa Falls College after driving on the Highway 17 A.
Atlanta – Chattanooga, TN
Approx. Distance: 118 miles via I-75 N
A beautiful Tennesseian city that is home to several museums and river cruises, Chattanooga is definitely worth your time. The city will not let you down if you are looking forward to an active nightlife. There are several day-night shopping arcades, restaurants, and bars that guarantee an endless fun. Don't forget to enjoy a leisure walk at the Tennessee Riverwalk, a 13-mile long riverside path that ends at Downtown Chattanooga.
Atlanta – Charleston, SC
Approx. Distance: 306 miles via via I-20 E and I-26 E
The largest city in South Carolina and famously called a paradise for food lovers, Charleston is settled on the Charleston Harbor. As the city is famed for its architectural heritage and a wealth of classic restaurants, the place attracts thousands of tourists every year. Comprising of six major areas, Charleston is a fairly large city with plentiful of touristy places, thereby again, justifying your decision to use an ATL car hire for sightseeing.