Car Rental Atlanta Downtown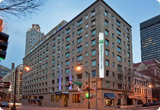 The Atlanta Downtown is a bustling area in the heart of the state capital of Georgia. A popular tourist destination and a thriving economic and commercial powerhouse, Atlanta Downtown sees many visitors every single day. A major historic place in the city is the Martin Luther King Museum.

Here one can view many exhibits and learn more about Dr Martin Luther King, his tireless work, and the black rights movements and struggles. The museum is set in a former childhood home of Dr Kings', and it is also his final resting place. It makes for a very interesting, as well as heart-wrenching, visit.
Atlanta has a great varied culinary scene, and foodies will love sampling the many tasty delights served up all around Atlanta Downtown. One of the best ways to get around the great local attractions is by renting a car. Hire a car from VIP Cars and see the sights of Atlanta in style.