Car Rental College Park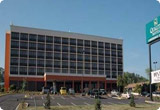 College Park is a city located close to Hartsfield–Jackson Atlanta International Airport in state of Georgia. With 3 recreation centers -Center, the Hugh C. Conley Recreation Center, the Gody Road Recreation Center and the Wayman & Bessie Brady Recreation, as well as four parks Brenningham park, Jamestown park, Barrett park and Richard D. Zupp Park, this town has lot to offer to families.


When in College Park, the perfect way to get around town is by using a reliable rented car from VIP Cars. VIP Cars have links to all the main car rental companies in all four corners of the globe, so are able to source a wide range of rental vehicles to suit everyone's needs. Whether one wants a luxury car or an economy vehicle, a large SUV or an intimate sports car, the choice is there. Mileages are unlimited, meaning that people are free to go wherever they want, whenever they want, during the rental period.