Car Rental Boise Airport (BOI)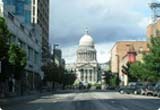 Boise Airport is an airport serving Ada County in the US state of Idaho. A joint civil-military airport, it serves close to 3 million passengers annually and is located around 5 km's south of Boise. This airport is wholly owned by the City of Boise but is a self supporting enterprise. The United States Forest Service also uses this airport as a base for fighting forest fires in the region. This airport handles commercial flights and is used for general aviation as well as by the military.

Boise Airport is used by a number of major operators such as Allegiant Air, Alaska Airlines, Delta Airlines, and Southwest Airlines which connect it to destinations such as Denver, Seattle, Portland, San Francisco, Las Vegas and Chicago. It has many modern amenities in it such as free Wi-Fi, ATM machines, restaurants, fast food joints, cafes and gift shops.