Car Rental N Lasalle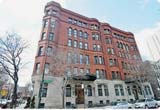 We provide travelers visiting North LaSalle with stylish yet efficient car rental deals. North LaSalle is an area located on the north bank of the Chicago River in Downtown Chicago. Part of the Chicago Loop, this street represents the city's main financial district. LaSalle Street is also known as 'the Canyon' due to the tall, steep buildings that line this narrow street, which is bookended by the Chicago Board of Trading building.

North LaSalle has a number of upscale shopping centers, offices and restaurants in it. Some of Chicago's most iconic buildings are also located in this area. These include Chicago City Hall, James R Thompson Center, Rookery Building, One North LaSalle, and 300 North LaSalle. The Moody Bible Institute is also located close to this street, and one can also visit the Lincoln Park which has a number of museums, parklands, beaches and a zoo.