Car Rental Abe Lincoln Capital Airport [SPI]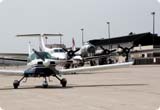 Abraham Lincoln Capital Airport is a public airport serving Springfield Metropolitan Area and its surrounding regions. This airport is a joint civil-military venture and is located 6 km's northwest of the CBD of Springfield. It is named after Abraham Lincoln, who was a long time resident of this city. This airport is owned by the Springfield Airport Authority, and it also serves as a base for the Capital Airport Air National Guard along with the 183rd Fighter Wing. In addition to commercial and military flights, this airport is also used for general aviation.

Abe Lincoln Capital Airport is used by Allegiant Air, American Eagle and SkyWest Airlines, which connect it to destinations such as Fort Myers, Dallas and Chicago. It has a few amenities in it such as free Wi-Fi, a VIP lounge, a fast food joint, and a gift shop.