Car Rental Bloomington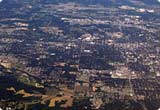 One of the eleven townships of the Monroe County, Bloomington Township consists of more than 15,346 residential units. Spread across 38 sq mi, the place includes seven unincorporated towns namely, Arlington, Cascade, Dolan, Eastern Heights, Lancaster Park, and Marlin Hills. Besides residential complexes, Bloomington is known for Griffy Lake and University Lake, the two natural attractions, with the former one also home to a large Griffy Lake Nature Preserve. A major recreational area, the nature reserve is a hub for fishing, boating, and as well as other outdoor activities. One can pick-up a rental car either from Indianapolis International Airport or from Bloomington, and drive straightaway to the lake and its nearby suburbs.

Explore the wilderness with VIP Cars powered Bloomington car rental deals!