Car Rental USA Maine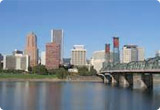 Located in the New England area of northeastern United States, the state of Maine is largely known for its astounding rocky coastline extending to Atlantic Ocean. From fishing to heading out on a cruise for seeing whales and puffins, shopping in the harbor of Portland to feasting on delicious lobsters; Maine offers indulgence at its peak and with a rental car in hand it becomes easy to plan your itinerary.

With much to explore and experience, booking car rental in Maine makes so much sense to avoid any sort of inconvenience. Maine is the place where a clear skyline is met by sea cliffs and snowy peaks. Largely showcasing a blend of serene harbors, beaches and captivating scenic beauty; this state's inland region has dense pine forests and some 60-plus lighthouses, which together constitute a stunning view.

Call it a nature's bliss, human innovation or both; but the state of Maine brings forth a superb amalgamation of slow-paced fun and spine chilling activities. Say for instance, visitors can spend their time by scrolling down antique shops, lobster huts, delightful B&Bs and of course not to miss here the glass of beer. However, if you feel like indulging in adventures to the extreme, race across white-water rapids, go cycling on the windy roads, hike through Acadia National Park, and enjoy sailing or even better kayaking to add a high to your trip.

Of all the cities, the largest city Portland is the one known for being stylish, but unpretentious. On the flips side, the capital city Augusta breathes life into the best of attractions in America.

For a Picturesque View!

Mt Kineo, Kettle Cove, Moxie Falls, Cadillac Mountains, Mackworth Island or Coos Canyon; Maine houses almost endless beautiful attractions compelling you to stopover and gawk at. So, when you rent a car in Maine, it would only add more charm to your trip, thus allowing you to cruise in and around the state.

What Makes VIP Cars Standout?

VIP Cars promises to be not just another car booking portal, for we give you access to the topmost US car suppliers in industry. With low priced rental packages, over 20,000 pick-up and drop-off locations and a huge fleet of well-maintained cars available on the go; we certainly deserve to be categorized as different and better. Our prices are all inclusive of taxes and insurance.
Whenever the need arises, book a car rental in Maine with us.