Car Rental Bangor Airport [BGR]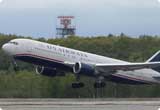 Bangor Airport is a part of the Penobscot County of Maine in the United States of America. IATA code of the airport is BGR. The chief airlines that run scheduled flights from Bangor Airport include: Allegiant Air, Delta Connection, and US Airways Express. They serve to provide connectivity to destinations such as Philadelphia, Washington, New York, Detroit, Michigan, Florida, St. Petersburg, and many more.

To ensure a pleasant time for guests during their brief stay at the terminal, Bangor Airport provides a range of conveniences and other facilities. Help yourself to a great meal, or munch a quick snack; whatever you prefer, Bangor Airport has it for you. You can also buy travel necessities and other kinds of stuff at the airport shop. ATMs are also available so that travelers can have quick access to cash.

Hurry and get in touch with us now to book your Bangor Airport car rental!