Car Rental Portland Jetport [PWM]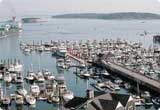 Portland International Jetport serves air traffic passing through Cumberland County in Maine, United States of America. IATA code associated with it is PWM. Majority of the flights at Portland Jetport are run by carriers such as Delta Air Lines, Delta Connection, Southwest Airlines, United Express, and US Airways. What makes this airport stand apart from the others is the ease of use for general travelers, and facilities for the handicapped.

A visitor information center has been set up at the airport for passengers to seek any clarifications or piece of information. In case you need some cash immediately, there is no need to worry. An ATM is available to take care of your requirements. Satiate your hunger by munching a bite or two of your favorite snacks. You can stay connected on the go as well; make use of the wifi access at the terminal.

Get in touch with VIP Cars today and book your rental for Portland Jetport!