Car Rental Hollister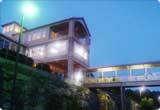 Hollister is a city located in Taney County of the Missouri state. Part of the Branson Metropolitan Area, this city is more known for being the location of the Branson Airport. This town was named after the birthplace of the daughter of Reuben Kirkham, who opened a general store and applied to the post office for permission. This town built the first iron bridge which helped attract tourists to Taney County. It also has a number of other firsts in the county to its name – such as the first steam heated hotel, first paved street, electric lights and first registered pharmacist.

Hollister has a few attractions of note for travelers to see in it. It is known for its row of Elizabethan houses constructed in Tudorbethan or mock Tudor styles which travelers can visit. The historic Ye English Inn and Downing Street are other main landmarks in this town.