Car Rental Rochester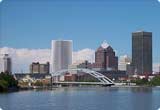 Rochester is a city located in Monroe County, New York. Well-known as The World's Image Center, Rochester was also formerlyrecognized as The Flour City and lately as The Flower City. Cradle of amateur photography, Rochester has farsightedbeenwell-known as Kodak Town. In Rochester, you can discover the only museum in the world committed to play, dance, award-winning music, and acting troupes. Entrance to the beautiful and culinary delights of New York's Finger Lakes region, Rochester is anideal place to start your exploration of Western New York. Lake Ontario lies to its north with the Genesee River streamlined northward through the city and over a set of three waterfalls. The historic Erie Canal goes along the city's borders.

Book your Rochester car rental now.