Cheap car rental at Seattle-Tacoma International Airport (SEA)
At VIP Cars, a well-known car hire broker with a worldwide presence, we put in every effort to give you the cheapest car rental deal for Seattle Airport right from the comfort of your home. From top cars and best deals to the widest supplier options for Sea-Tac Airport car rental, we let you plan your travel the way you want. Book online or call us anytime to make a car hire reservation in a matter of a few minutes. Not just the booking part is easy, modifications are also made slick and a fuss-free affair. So, make a smarter choice and book a rental car for Seattle International Airport today!
Car rental companies at Seattle Airport
Our rewarding association with the major US car hire brands, including Alamo, Enterprise, FOX USA, National, Sixt, and Thrifty Tour, gives us direct access to unbeatable deals, lowest prices, and an array of free add-ons. So, renting a car for Seattle Airport from us simply translates into big savings for you!
Alamo
Enterprise
Sixt
Thrifty
FOX USA
National
Popular car rental types for Seattle Airport (SEA)
Our booking form presents you with a large rental car fleet, from economy/compact cars to intermediate sedans, SUVs, and vans to stylish convertibles and luxury cars. Our decade-long expertise in the SEA airport car rental domain guides us to select the best rental suppliers with the best vehicles, thereby ensuring a hassle-free experience.
Van/Minivan Rentals
SUV Rentals
Sedan Car Rental
Economy Car Rental
About Seattle-Tacoma International Airport (SEA)
Ranked among the fastest growing airports in the United States, the Seattle-Tacoma International Airport handles more than 30 million passengers every year. Besides serving as a hub for the Alaska Airlines, the SEA offers flights to several destinations across North America, Europe, Asia, and the Middle East. Book a rental car for Seattle Airport in just a few moments. Our easy to use booking engine, along with thoughtfully planned filter options, assist you in getting the cheapest rental car deal for Seattle Airport.
| | |
| --- | --- |
| Address: | 17801 International Blvd, WA 98158 |
| IATA Code: | SEA |
Where to Find Booked Rental Car at Seattle Airport?
Sea-Tac Airport houses a dedicated Rental Car Facility spread across 9 hectares, with space for more than 5,400 cars. Catering to more than 14,000 passengers every day, such an elaborated set-up looks like a challenge if you seek an on the spot car rental. An online car hire reservation for Seattle-Tacoma Airport is all that you need to bypass all the stressful commotion of finding a right car at the best rate. A pre-booked car hire gives you the privilege of just collecting the keys of your rental car from the car hire supplier concerned.
Shopping at Seattle Airport
Whether you want to buy a souvenir, a trendy leather bag, or a latest electronic gadget, Seattle Airport shops offer a wide range of products to choose from. Given below are the names of leading retail outlets at Seatac Airport.
ExOfficio
A renowned name in travel essentials' category, ExOfficio features a wide range of travel-inspired merchandise.
Made in Washington
A one-stop destination for travelers interested in buying specialty foods, cooking ingredients, and crafts' material.
Planewear Store
The travel and aviation-themed retail store is famous for its SkyBelts, Steamline Luggage, and Pan Am Bags.
Hudson News
The retail shop features a selection of books, newspapers, magazines, and a variety of drinks as well as snacks.
Dufry Duty-Free
The duty-free merchandise store stocks a huge assortment of cosmetic products, wines, and confectionery items.
Fireworks
A popular airport gift shop that sells a wide range of products, from books, jewelry, and gadgets to games and toys.
Dining at Seattle Airport
Seattle Airport offers an exciting mix of on-site dining options, ranging from a variety of snack bars to cafes, and restaurants. Check out the names of below-mentioned most popular eating outlets at Seatac Airport.
Seattle Seahawks 12 Club
The restaurant's menu includes salads, soups, sandwiches, nachos, omelets, beacon, eggs, and a variety of beverages.
Beecher's Handmade Cheese
Besides savoring delicious cheese delicacies, you can enjoy freshly made grilled sandwiches and espresso drinks.
La Pisa Cafe
The airport cafe is known for its freshly baked Italian pizza, sandwiches, panini, salads, and a wide range of snacks.
Vino Volo
A well-known destination for buying and tasting a variety of wines, including wines from Oregon and Washington.
Dish D'Lish
The cafe serves freshly prepared salads, sandwiches, quick-snacks, and a wide range of hot and cold beverages.
Anthony's Restaurant
Known for cooking local dishes, the restaurant is famous for Puget Sound oysters and wild Alaskan King Salmon.
Lounges at Seattle Airport
Seatac Airport is home to several plush lounges that feature all the latest passenger amenities. Accessible via a membership program or a paid pass, the following lounges let you wait for your flight in relaxed settings.
Looking for Top Attractions in Seattle?
A major seaport city on the US' western coast, Seattle seamlessly blends its classic urban architecture with natural attractions. A rental car is arguably the best way to lessen the stress of navigating through a big city. It gives you much required time to plan your itinerary and freedom from the inconveniences of the public transportation system. Moreover, a rental car in Seattle will save you from its infamous rainy weather. Following is the list of Seattle's popular attractions: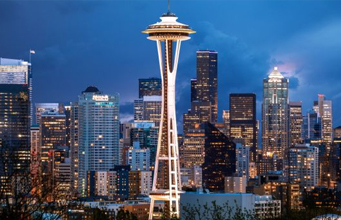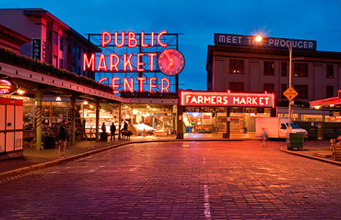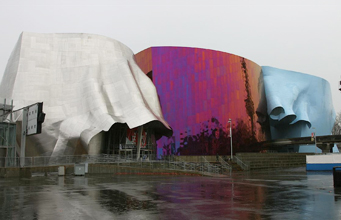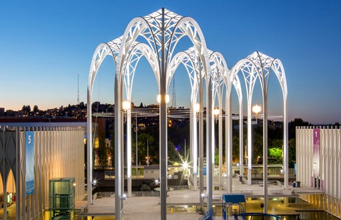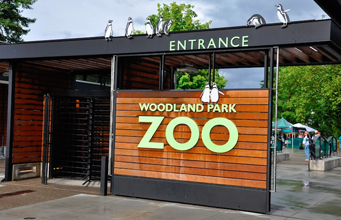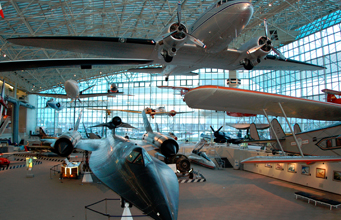 Tips for Driving a Rental Car From Seattle to Canada?
---
Driving to the nearby cities of Canada is exciting and fulfilling as you get an opportunity to discover more during your Seattle trip. Have a look at the following 'to-do' points before you decide to book a cross-border car rental from SeaTac Airport.
Inform your car rental company as and when you are planning to drive to Canada. Don't forget to ask about the Canadian Insurance ID card, which is generally required if you drive a rental car in Canada.
As the US-Canada border, while going to Vancouver from Seattle, is secured, a quick entry into the Canadian territory may not be always possible. A little bit of waiting time in general, and a long one in particular during late noon, is pretty normal at the border crossing.
The following two road trips from Seattle to Canada are the most-sought-after ones:
Vancouver, BC, Canada
Distance: 143 miles
Famous for: Stanley Park, Capilano Suspension Bridge
Whistler, BC, Canada
Distance: 202 miles
Famous for: Ski Resort, Mountain Biking, Shannon Falls
Interested in Road Trips From Seattle?
Driving around a typical megacity could stress you out. But don't forget that you are lucky enough to have come to Seattle. Certainly, the rain could be quite unwelcoming at times, but there is also an option to plan a trip to Canada, go to a beach, or enjoy hiking over a mountain in just a couple of hours. Pick up your rental car and get ready for any of the following fantastic road trips from Seattle.
Day Trips From Seattle
Whidbey Island
Distance: 35 miles
Famous for: Beach, Restaurants, Grass Fields
Friday Harbor
Distance: 103 miles
Famous for: Beach, Antiques, Souvenirs
Olympic National Park
Distance: 110 miles
Famous for: Hot Springs, Rain forest, Camping, Lakes
Diablo Lake
Distance: 124 miles
Famous for: North Cascades Highway, Waterfalls, Campsites
Westport
Distance: 130 miles
Famous for: Beach, Farm Tours
Leavenworth
Distance: 135 miles
Famous for: River Rafting, Hiking, Skiing, Mountain Biking
Yakima
Distance: 142 miles
Famous for: Yakima Valley, Wineries
Lake Chelan
Distance: 198 miles
Famous for: Fishing, Hiking, Pools, Biking
Tips for Car Rental in Seattle Airport
As the Seattle-Tacoma Airport is about 15 miles away from the main city, it will not take more than 20 minutes to reach Downtown Seattle. Keep in mind the following useful tips so that you don't go sleepless in Seattle!
Board a bus from the terminal to reach SEA Rental Car Facility, which is situated at 3150 South 160th Street. Operating 24 hours a day, buses pick-up passengers from 2 points situated outside the baggage claim area at the main terminals' north and south end.
Whether you are visiting Seattle for leisure or business, having a rental car equipped with a GPS navigation system is a boon. It not just shows an accurate route but also provides real-time traffic alerts.
Documents required to rent a car at the Sea-Tac Airport: A valid driver's license (DL), international driving permit (IDP) if your DL is not in the Latin alphabet, and international ID proof.
You will need a credit card in the name of the main driver to pay the security deposit at the car rental desk at the Seattle Airport.
A one-way car rental from the Seattle Airport is possible. With a one-way rental, you can rent a car at any preferred location and drop it to another location.
FAQs for Car Rental at Seattle Airport (SEA)
Where to find the Seattle Airport car rental return location?

When you reach the Seattle Airport, look for the 'Car Rental Return' or 'Car Rental Center' signposts. As you reach the designated parking area you can then park the rental. Complete the formalities and return back to the terminal. Drop-off and pick-up-related information are mentioned in the confirmation voucher as well, so you can refer to the same.

How to book a cheap car rental at the Seattle Airport?

Book your car rental at VIPCars.com to avail the cheapest car rental prices. We offer discounted prices on car rental and offer a wide fleet of car options, so you can choose the best deal. Make sure to book a rental car as early as possible from the day of your trip as the prices are comparatively lower in advance bookings.