Car Rental Spokane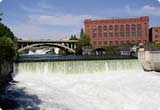 Spokane is a city and the seat of the county by the same name in the State of Washington. Named after a Native American Tribe, this city is located on the Spokane River and is the second largest metropolitan area in the state. This city is also called 'Lilac City' due to the abundance of lilac flowers in Spokane. Agriculture and logging are the main industries in the city and it has a number of vineyards and microbreweries in it. Spokane is also served by the Spokane International Airport.

Downtown Spokane contains most of the shopping areas and attractions in the city. The Riverfront Park, the Manito Park and the Riverside State Park are popular nature areas here. Monroe Street Bridge located here is the largest arch bridge in the country and one of the few remaining historical bridges which helped give Spokane the nickname of the 'City of Bridges'.

Hire a car at Spokane and get around at your own comfort!