Car Rental Lewisburg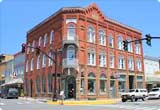 Located about 207 miles west of Richmond, Virginia, Lewisburg is one of the cities in West Virginia's Greenbrier County. Spread across 3.81 square miles, the city forms the part of the Southern West Virginia Region. Named after Andrew Lewis, Lewisburg is dotted with number of worth seeing attractions such as, Greenbrier Valley Theatre, Carnegie Hall, and Organ Cave, one of the largest historic cave systems of the US. Greenbrier Valley Airport located just 5 miles from the city centre is the nearest aerodrome facility to Lewisburg. Two more airports namely, Beckley Raleigh County Memorial Airport and Roanoke Regional Airport, located approximately 48 miles and 81 miles away respectively, also serve Lewisburg.

Get a quirky car along with a frugal Lewisburg car rental deal from VIP Cars now!