Car Rental Morgantown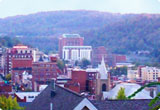 You know you are in Morgantown, West Virginia when you are surrounded by rolling hills, gorgeous views and picture perfect landscapes. Outdoor activities, taking a walk down the town's historic heritage and visiting its neighboring metro locales such as Washington d.c and Pittsburgh can be made easy by booking a rent a car!

Experience Morgantown

Morgantown is best known for its gastronomy. It offers a wide variety of scrumptious food and has a plethora of bars, pubs, restaurants and coffee shops. The most famous drink of this location is the moonshine. The town has a lot for shopaholics to fill their suitcases with. A number of boutiques and complexes sell unique and high end products.

Morgantown also has a number of entertainment and tourist attractions ranging from the coopers rock state – a beautiful hiking trail spread over 12000 acres, various state parks, Cheat Lake, West Virginia Botanic Garden, Historic Metropolitan Theatre, and the Morgantown Event Center.

Get your way around in Morgantown

Morgantown has most of its recreational activities lying in close proximity making driving the most suitable option to travel. The town also has 1600 parking spots and hence renting a car to explore the city is the most desirable. VIP cars have carved a niche in the industry by partnering with the best car rental suppliers in Morgantown to give you the best service. We provide you with a wide variety of vehicles at budget friendly options. Book online and enjoy your trip to Morgantown!