Car Rental Sanaa Airport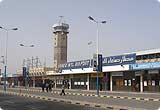 A military cum civilian aerodrome facility, Sanaa Airport is one of the major international airports of the Republic of Yemen. VIP Cars, a car rental broker known for reliable tariffs and negotiated deals, offers best priced Sanaa Airport car rental deals through its globally renowned affiliates.

Guide to Sanaa Airport
Owned and operated by Government of Yemen, Sanaa Airport primarily serves the capital city and its nearby areas. AirArabia, EgyptAir, Emirates, Etihad Airways, Felix Airways, Gulf Air, Royal Jordanian, Turkish Airlines, and Yemenia are major passenger air carriers that operate regular flights from Sanaa International Airport to key destinations across Egypt, Bahrain, Jordan, Turkey, Saudi Arabia, and the United Arab Emirates.

Avail a frugally priced Sanaa Airport car rental deal from VIP Cars now!