Car Rental Tirana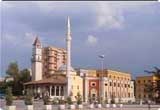 We at VIP Cars, constantly endeavor to provide our clients with high-quality car rental solutions for Tirana so that they can commute freely and enjoy their vacation. To make things easier, we have a secure online portal for bookings. In addition, we provide round the clock customer-friendly support. Our collaboration with major Tirana car rental brands entitles our patrons to avail inclusive services like mileage and insurance, without paying anything extra.
Guide To Tirana
The city of Tirana serves as the capital of Albania. It is a center of political and economic life of the country as well as home to many cultural institutions. Opera, theater, music, and art are very popular here. In addition, you will also find plenty of landmarks and places to visit. Some of the notable ones are: Tirana Castle, Tabak Bridge, St. Paul's Cathedral, and Natural Sciences Museum of Albania.
Book your Tirana car rental today!