Car Rental Sydney Downtown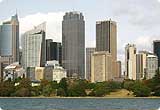 Capital city of the state of New South Wales of Australia, Sydney is located on the south eastern coastal area of the Tasman Sea. Sydney has ranked on the top of the list of best world cities. It is known for not only beautiful architectural and commercial zones but also for hosting international sport events.
Sydney is best known for the Sydney Opera House and Sydney Bridge. The opera house was designed by a Danish architect. There are lots of parks in here like Chinese Garden Of Friendship, Sydney Park, Royal Botanic gardens, Hyde Park and lots more. It also has the Royal National Park which is the second oldest park in the entire world. There are lots of museum like the Museum of Contemporary art, White Rabbit Gallery, and Art Gallery of New South Wales and so on.
There are lots of shopping destinations here. You can never finish viewing the many spots of attraction here. It is a complete destination with all kinds of places to visit with both historical and contemporary areas, thus a rental car is advised. Book yours now!