Car Rental Townsville Airport (TSV)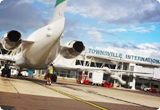 Townsville Airport is an important regional airport serving the city of Townsville of the state of Queensland of Australia. The airport was previously known as the Gabutt Airport because it is close to the suburb of Gabutt of Australia. One of the busiest airports in the country, Townsville Airport handled 1.7 million passengers for the commercial year 2011-2012. It has got the rank of the 11th busiest airport in entire Australia for the same year.
It is also known as Townsville International Airport. Apart from the use of civilians of Townsville, the airport also serves Australian Defense Force within Australia or abroad. The airport is located at a distance of 3.7 km from the main city of Townsville.
Plan your visit to Townsville city with a rental car booked in advance!