Car Rental Minsk Airport (MSQ)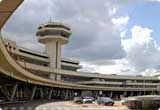 One of the easiest and fastest ways to reach Minsk is to travel by plane. In order to make your arrival at the Minsk Airport and touring the countryside easier, we advise you to book a car from VIP Cars. Serving the city of Minsk, Minsk Airport is a few kilometers away from many popular landmarks and attractions. Hire a car and drive straight to local ski resorts or ski slopes and enjoy snow tubing, snowboarding, ice skating or simply skiing down the wonderful slopes. Must see sights are: KGB headquarters, Mastacki Salon, PalacMastactva, St. Elizabeth Monastery, Independence square and many others. Having a rental car ready on your arrival at Minsk airport will let your drive directly to your hotel accommodation.

Remain assured that VIP Cars offers all-inclusive car rental deal at very affordable rates.