Car Rental Minsk Downtown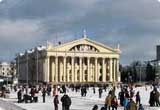 Minsk is the capital city of Belarus and has many fascinating structures to keep you busy all day. Touring Minsk downtown is more convenient with a low priced car rental from VIP cars. You can easily book your preferred car with us and plan your itinerary comfortably.

Minsk Downtown is home to several historical structures of the city. We suggest that you head first to the Belarus National Museum of History and Culture to better understand the place. Then the next stop should be the different historical and religious architecture in downtown Minsk, such as St. Elizabeth Monastery, KGB headquarters, St. Mary Magdeline Church and St. Paul & St. Peter Church.
You must also try Belarusian Cuisine at the Vasilki within Independence Avenue or the National Food and try their kvass.

All you need to do is browse the various car models, choose one and book. If you need help, we also have 24/7 customer service online. Rent a car from VIP Cars now!