Car Rental Vitebsk Train Station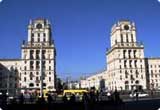 The city of Vitebsk, Belarus can be reached by train. The Vitebsk Train Station functions as a central route within Belarus and Russia.

Once you arrive in the Vitebsk Train Station you can right away head out to see the attractions that the city has to offer you. For a convenient excursion within the city get a car from VIPcars.com.

Try the Belarusian performances offered by the National Academic Dramatic Theatre which is famed all over the world for its avantgarde and visually striking theater productions. You must also try to experience the Slaviansky Bazaar which is a humongous music festival hosted near the city center.Aside from the sites, do try Belarusian cuisine like Draniki which is meat-filled, fried potato pancakes and sour cream topped. Another dish is Kotleky or pork cutlet.