Car Rental Montreal Downtown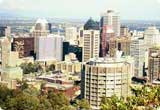 Recently named as UNESCO's City of Design, Montreal city is located in the progressive province of Quebec in Canada. The city is known to be the second biggest in the whole country. Montreal Downtown serves as the center of the city where you can find plenty of attractions and things to do. Across the entire Montreal Downtown are factories and warehouses that date back decades ago when Montreal was still the industrial and financial center of Canada. They are a part of the 50 National Historic Sites of Canada which you can all visit. From there, you could see the office tower of Place Ville Marie and even the famed Olympic Stadium where many important events were held.

You can put your faith on car rental services offered by VIP Cars to get you around town and see these attractions.