Car Rental Kuressaare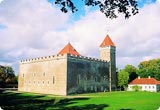 Kuressaare is a municipality and a town located on the island of Saaremaa in Estonia. Kuressaare was formerly known as Arensburg and it got city status in 1563. This is the capital City of Saare County and the westernmost town in Estonia. The city is located on the coast of the Gulf of Riga and is functioned by Kuressaare Airport, Kuressaare Yacht Harbor, and Roomassaare Harbor. The gothic Episcopal Kuressaare Castle nowadays has the Saaremaa Regional Museum. The castle was initially constructed in wood amongst 1338 and 1380. The town hall was initially constructed in 1654 and rejuvenated, holding classicist and baroque characteristics. St Nicolaus Church was constructed in 1790. Yearly Saaremaa Opera Days are takes place in the town every summer since 1999. Other festivals include Kuressaare Martime Festival and Kuressaare Chamber Music Days. The town hosts the FC Kuressaare football club.

Travelers can explore all the attractions in and around Kuressaare by rent a car from VIP Cars.