Car Rental Germany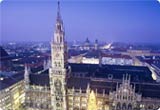 Renting a car in Germany is a perfect way to explore its mesmerizing scenery, half timbered houses, historic locations and a lip smacking cuisine. Book a car rental for Germany online through our booking portal and find it waiting for you at the location of your choice!

Well-known throughout the world for its high-tech products and precision engineering, Germany is also loved by visitors for its old-style charm, the Black Forest, German Alps and blend of history and modern lifestyle. This European country is world famous for its long historical background and World War stories, which is why architecture and history enthusiasts are bound to have a good time driving around Germany in a rental car.  

Best Cities in Germany

Each of Germany's cities offers something unique in terms of culture, heritage and entertainment. Some of the best cities of this European country include:

Berlin:

As the capital city of Germany, Berlin is the third most frequented in Europe. Housing 170+ museums and art galleries, unlimited restaurants and bars, this German city is the perfect destination for all kinds of travelers. Berlin's sky-high buildings, castles and other historic monuments will leave you awestruck by its beauty. Brandenburg Gate, Berlin Wall, Berliner Dom, Museum Island, Reichstag building – Bundestag and World's Garden are some of its best attractions.

Munich:

Located in the southern part of Germany, Munich is the perfect combination of traditions and modernity. This city is mainly famous for hosting the "Oktoberfest", a traditional beer festival which attracts millions of tourists from all over the world .The English Garden, Residenz Palace, Marienplatz and Frauenkirche are some of the must see places in Munich that can be easily covered with a car rental.

Frankfurt:

Situated in the central Germany, Frankfurt is a land of diverse locations. While one part of this city is laced with sky scrapers and modern night clubs the other parts consist of cobbled streets and traditional half timber houses. When in Frankfurt, one must visit places such as Main Tower, Cider Tavern, Paulskirche, Shopping Street Zeil and Palmengarten.

Car rental in Germany

Germany offers a wide variety of picturesque locations which can be easily reached by renting a car. You can drive to locations such as the German Wine Road and German Castle Road in a rental car to see the beautiful wine routes and castles located along these locations.

VIP Cars is well known for best deals and world class customer care. As hiring a car undisputedly remains your best choice to explore Germany, we bring you affordable deals from renowned car suppliers such as Dollar, Europcar, Buchbinder, Enterprise, Thrifty and Sixt. Browse through our large rental fleet of compacts, snazzy sedans to glitzy luxury versions, and pick the one that fulfills your travelling needs. Use our responsive booking engine to avail the best car rental deal in Germany in just three easy steps.