Car Rental Munich Train Station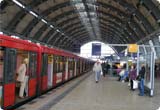 Munich is a large city, important for travelers of many kinds. People travel to and from this city, the capital city of Bavaria every day for pleasure trips or business meetings and conventions. Munich is connected to the rest of the state and the countrythrough its extensive rail networks. There are three stations in Munich itself, including the Central Trail Station.

Munich Train Station is the southern terminus of the Intercity Express( ICE) line Hamburg-Altona, part of the high-speed rail line. There are over 10 ICE lines total, which cover the long-distance routes. Additionally, numerous regional and state train services stop at this station, for shorter routes. The U-bah and S-bahn (urban light rail and subway trains) also come here, but they operate as separate entities from the main rail lines.

Once you arrive in Munich, a car is the easiest way to get around and see the city. VIP Cars offer an extensive lineup for cars at affordable prices. Make your booking today, VIP Cars.