Grab the Best Car Rental Deals for Frankfurt Airport (FRA) Terminal 1 & 2
Renting a car at Frankfurt Airport (FRA) was never this easy! VIP Cars offers all-inclusive low-priced Frankfurt Airport car rental deals, from top car rental suppliers, allowing you to compare top brands & their prices at one place, thus saving you time & money.
Besides this, VIP Cars and its partner suppliers also offer car hire inclusions like CDW, THW, and unlimited mileage, so as to make sure that your trip remains smooth and hassle-free at all costs!
Reasons to Book Your Frankfurt Airport Car Rental with Us
Short & long term car rentals available
We don't charge any Credit Card Fee
Free Cancellation (if requested 48 hours before the pickup)
Friendly 24/7 booking support service
How to rent a car at Frankfurt Airport?
You can book your Frankfurt Airport car rental by following an easy booking process. It consists of three simple steps:
SEARCH

Use the booking form given on the website to search for a car at FRA Airport. Our form permits you to choose a different drop off location, hence, allowing you the option of booking a one-way car rental from FRA airport.

COMPARE

On clicking the 'Search' button after filling your rental details you will be taken to the best searches available for the Frankfurt Airport. At this page you can customize your search using various filters like Suppliers or Car Type etc.

BOOK

Upon clicking on the 'Select' button given adjacent to the deal that you have chosen, you will be directed to the booking page. Here you can book the deal by paying a small amount.
Your booking will be confirmed by the supplier via mail, which will also contain the voucher that you will have to show at the car rental desk while picking your rental at Frankfurt Airport.
Extra services

available with
a FRA car rental

VIP Cars & its suppliers work together to present best in rental; the features like GPS, Baby Seats, Snow Tires & Additional Drivers are often offered in form of EXTRA. These Extras are paid services that can be availed or ignored depending upon the customer's need.

Each FRA Airport car rental deal at VIP Cars comes with its own list of extras which usually varies from supplier to supplier.
One Way


Car Rental for Frankfurt Airport

Many of our car rental suppliers like Sixt, Europcar, and Hertz provide the option of one-way car rental from Frankfurt Airport. This One-Way rental for Frankfurt Airport allows you to pick your car at FRA & drop off the vehicle without driving back to the airport vicinity.

Often One-Way rental is based on supplier to supplier basis & could make difference in rental charges.
Available Drop-Off Locations in Frankfurt
Following are some of the locations where you can rent your car in Frankfurt; these also remain open both as pickup and drop-off locations:
Frankfurt Airport (FRA) Information
Established in 1912 by the world's first ever airline DELAG, Frankfurt Airport was initially a small airport, and the structure that we see today started to take shape in 1933 when the plans for a bigger airport were approved.
Today airline carriers like Adria Airways, Aegean Airlines, Aer Lingus, Aeroflot and Air Algerie provide flights to about 293 destinations around the world. Besides being the only airport in the world which provides the most direct flights worldwide, Frankfurt Airport is the 12th busiest airport in the world (as per 2015 statistics).
Facilities Available at Frankfurt Airport
Best Day Trips from Frankfurt by Car
Renting a car at Frankfurt Airport also means that you can explore Frankfurt's various neighbors. Here are some fine day trips that you can take from Frankfurt in your car rental.
If you have a layover, there is certainly nothing better than a small trip to Frankfurt Main to rejuvenate your spirits. Just rent a car for Frankfurt Airport with us, collect it from Car Rental Center at the airport terminal and enjoy all that you can in the limited time span. In case your layover is longer you can go for places like Baden-Baden,Hanau and Wiesbaden from the list given below, as they are just a few minutes away from Frankfurt Airport by car.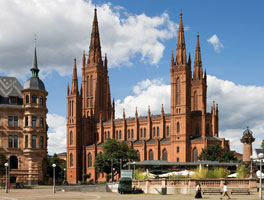 Wiesbaden
Distance: It is 39.1 Kilometers from Frankfurt, via A66, and 27.9 km from Frankfurt Airport via A3.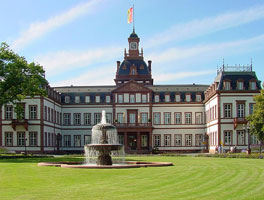 Hanau
Distance: It is 29.6 Kilometers east from Frankfurt, via A3 and 32.8 kilometers from Frankfurt Airport via A3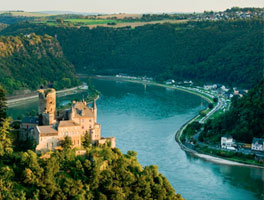 The Rhine Valley
Distance: It is located 118.7 kilometers from Frankfurt via A60 and A61; 106.7 Km from Frankfurt Airport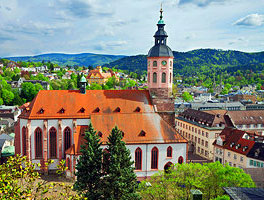 Baden-Baden
Distance: It is 174.7 kilometers away from Frankfurt via A5; 165 Km from Frankfurt Airport via A5
Book your car rental for Frankfurt Airport today, and make a beeline for a great traveling experience in Frankfurt and Germany.
Frequently Asked Questions?