Car Rental Mykonos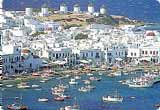 Mykonos is a town and island located in the Cyclades archipelago of Greece. This island is a popular tourist attraction known for its cosmopolitan nightlife and celebrity sightings. The city of Mykonos, also known as 'Chora' for the Greek word for town, is located within the island and is actually the biggest town in the area. This city is lined with streets full of little shops, boutiques, art galleries, cafes, bars and restaurants for tourists to visit.

Little Venice is one of the most beautiful and romantic places to visit on this island and along with the famous Windmills located here are popular places to watch the sunset. Panagia Paraportiani is a whitewashed church dating back to the 16th century located here and is the most photographed and visited church on the whole island.

Hire a rental car while traveling in Mykonos and get the best deals by booking through VIPcars.com.