Car Rental Preveza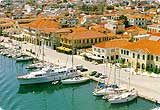 Preveza is a town and capital of the regional unit by the same name. Part of the Epirus region in Greece, this town is located at the mouth of the Ambracian Gulf and is close to the ruins of the ancient city of Nicopolis. The town is connected to the region of Aetolia-Acarnania the only undersea tunnel in the country.

There are many attractions for travelers to see in Preveza. One of the notable attractions in Preveza is the Acheron Rive Canyon which is famous for its blue green waters and majestic canyons formed by the action of water more than a million of years ago. Other attractions include the ancient Nicopolis area, the Ancient Cassope, the Venetian Clock Tower, Trikastron Citadel and many more.

There are many attractions located in Preveza and getting around the many attractions becomes an easier task by commuting in a rental car booked through VIP Cars.