Car Rental Rhodes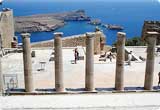 Rhodes is an island that is located in the Eastern Aegean Sea. The largest of the Dodecanese group of islands, it is known for its sandy beaches, historical sites and large medieval town. This city is one of the most visited tourist destinations in Greece and its Old Town is listed as a World Heritage Site. This city is served by the Rhodes International Airport which provides connections to destinations all over Europe and the Middle East.

The Ruins of the temple of Apollo located in the Acropolis of Rhodes, is an important landmark located here dating back to the ancient times. The Grand Master's Palace, built by the Knights Hospitaller, Knights Street, the Mosque of Suleiman the Magnificent and the Holocaust Memorial in the Jewish Cemetery are also a few of the many attractions in Rhodes.

With so many attractions, sightseeing is more convenient by traveling in a rental car booked from VIPcars.com.