Car Rental Guadeloupe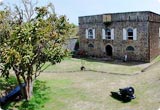 Experience this popular archipelago of islands conveniently by pre-booking car rental for Guadeloupe with us. With multiple filters intact, we aim to provide a secure platform to find suitable rental options.

A Caribbean island situated in the Leeward Islands in Lesser Antilles, Guadeloupe is an overseas area of France. It is occasionally known as the Butterfly Island. There are several colorful festivals to attend in Guadeloupe, which is why people call them parties on the street.

Guadeloupe- The Butterfly Island of Caribbean!

Guadeloupe has earned this name from the shape of two of its major islands. Located to the Southeast of Puerto Rico, this island has a Franco-Caribbean identity that captivates interests of travelers from around the World. The islands that combine to make Guadeloupe include Basse Terre, which is known for its lush surroundings and mountainous volcano, Grande Terre offering beaches, La Désirade gives a cliffy surrounding and others.

On your voyage here, we proffer you with affordable car hire services in Guadeloupe to make your journey hassle-free. We work with leadings suppliers so that travelers can find a car for the desired rental location including Baie Mahault, Gosier, Pointe A Pitre and Saint Francois.

A Trip to Guadeloupe- The Must-Visits!

Home to Basse Terre, Marie Galante, Petite Terre, Saint Martin and Les Saintes among other islands, Guadeloupe is an interesting holiday destination. Here, visitors can be part of abundant indulgence opportunities that include hiking trips, admiring the Caribbean panorama, a tour around local rum distilleries and peaceful walk down the spectacular waterfalls. Visiting the best of attractions here becomes easier if car rental for Guadeloupe is booked in advance to your arrival. At VIP Cars, you can search across a vast car inventory, reserve the most suitable deals and plan your own itinerary of things-to-do.

The Notable Attractions are

From economic capital Pointe- a- Pitre to Gosier (the place known for its nightlife), the beautiful town Le Moule to touristic town St Anne; the group of islands is bestowed with diverse attractions to be included in any itinerary of must-visits.

"Fort napolean, Le Chameau Tower, Musee du Rhum, Cathedrale de St-Pierre et St- Paul, Damoiseau Dsitillery, Edgar Clerc Archeological Museum, Reserve Coutseau, Plage de Clugny, Port d'Enfer and East-Coast Beaaches are some notable attractions not to be missed on your visit."

What Booking with Us Means

Booking a car rental for Guadeloupe online entitles you to a series of advantages that are standard to leading suppliers. Moreover, we assure you of easy booking management. All you need to do is to search through our wide car fleet, select the vehicle catering to your travel plan (do compare deals) and book with us. We also provide one-way rental, which gives you the liberty to pick-up car from one place and drop it back to any chosen location.

Be it luxury, utility or cars under economy segment; we strive to provide you with the best-in-class affordable car hire services for Guadeloupe. Advance booking is appreciated to avoid any last minute delays. N o processing fee! Book now!