Car Rental Pointe A Pitre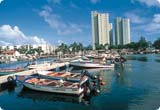 Serving as the seat of Guadeloupe Pointe A Pitre Arrondissement, Pointe A Pitre is one of the largest cities of Guadeloupe. Situated on the southern Mediterranean Sea coast, the city is known for its old colonial buildings, museums, shopping plazas, cathedrals, and art galleries. You can pick up a rental car from Pointe A Pitre Airport, and enjoy a splendid drive to the city. With VIP Cars offering every Pointe A Pitre car rental deal with an unlimited mileage plan, you can cover several adjoining cities as well as business districts as well.

If you have been searching for a cost efficient Pointe A Pitre car rental deal, you are already arrived at a right place.