Car Rental Guadeloupe Jarry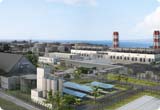 Located about 5 miles and 7 miles away from Baie Mahault and Abymes respectively, Jarry is one of the major industrialized zone of Guadeloupe. One of the largest commercial hubs located outside the mainland French territory, the place is home to number of commercial establishments, including corporate offices, service centers, retail outlets, warehouses, and as well as research centers. Capitalizing on its close proximity to the Pointe-à-Pitre Le Raizet Airport, Guadeloupe Jarry's World Trade Center has successfully marketed itself as a top destination for leading corporate to establish a corporate headquarters.

Book a frugal Guadeloupe Jarry car rental deal from VIP Cars in just three easy steps!