Car Rental Iceland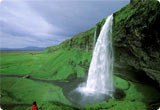 Iceland is a Nordic European island country located at the confluence of the North Atlantic and Arctic Oceans on the Mid-Atlantic Ridge. Iceland is a spectacularly beautiful place if you love out of the ordinary and devastate landscapes. Summer is the best time to go to Iceland and even then the tourist traffic is evenmodest.

Reykjavik, Akureyri, Stykkishólmur, Keflavik and Ísafjörður are few of the many interesting cities in Iceland that are best covered with a convinince of a rental car. You can also drive to its various National Parks or explore locations like Bleu Lagoo, Gulfoss, Geysir and Jökulsárlón.
A country of natural geysers, lagoons, natural landscapes and beauty, Iceland has a lot of explore and a rental car is a perfect way to do. Call us now to get your car!