Car Rental Reykjavik Downtown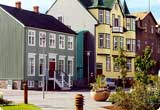 Adored with number of old houses with bright colored metal roofs, Reykjavik Downtown transforms you to an ancient era. Despite being unorganized in their location, the houses continue to garner travelers attention. Get a rental car that takes you to all the worth seeing attractions without any hassle. With VIP Cars alliance partners operating large fleets of different types of cars, you get ample commuting options to choose from.

Guide to Reykjavik Downtown
The downtown is not just a site of decorated houses. One can also see couple of ultra modern building complexes as well. Furthermore, the place is dotted with number of museums and art galleries, which are nothing less than a feast to your eyes. Reykjavik Downtown is served by Reykjavík Domestic Airport and Keflavík International Airport, located approximately 1.5 miles and 31 miles away respectively.
Our alliance partners provide rental cars at the airports and as well as other at various other tourist attractions.