Car Rental Reykjavik Harbour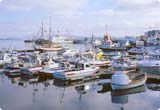 Iceland's capital city of Reykjavik has two harbours; the old harbour near to the centre of the city, and Sundahofn towards the east of the city. The old harbour is used by cruise ships and local fishermen, and Sundahofn is a large cargo port, the largest in the country in fact.

It is easy to access the many delights of the Rekjavik city centre and the surrounding natural areas from both of the harbours. Visitors can stroll around the city, and see natural wonders such as Thingvellir National Park, geysers, waterfalls, and volcanoes. The Blue Lagoon is a nearby attraction that is an absolute must when in the area.

VIP Cars can arrange car hire from both harbours in Reykjavik. An online booking will give you access to full customer support, a wide selection of rental cars, competitive prices, all inclusive packages, and excellent terms.