Car Rental Turin Airport (TRN)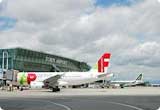 The Airport serving Turin and the region is a major international facility. It has flights to Italy and major European cities. Many major European carriers such has Alitalia, Air France and British Airways depart from this airport. Additionally, smaller discount carriers such as Vueling and Ryan air also use the facility.

As of May 1, 2013, Turin Airport offers free Wi-Fi in the main passenger areas. It is the first Italian Airport to offer free internet at all times of day. There are many restaurants and bars where you can enjoy a good meal while awaiting your departure. Additionally, many shops, including a wine store offering tastings, sell everything from convenience to high-quality leather products.

In Turin you'll find a range of activities, hotels and restaurants keep you occupied for the duration of your stay. Outside of Turin lie further opportunities for exploration. Book a low priced car rental for Turin Airport now!