Rent a Car at Malpensa Airport (MXP) & Explore Milan in Absolute Comfort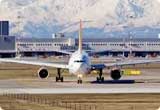 Milan Malpensa Airport – gateway to Northern Italy – is located just off the State Road SS336, between the city of Milan and the fabulous scenery of the Italian lakes nearby. Book a car rental for pickup at Milan Airport and give yourself the chance to explore Milan in the luxury that you deserve! Whether you want to drive around Milan – exploring its fashion, design and art districts – or experience Italy's adventure options, a car rental would prove to be the perfect traveling companion.
Reasons That Make Renting a Car for MXP Airport from VIP Cars a Great Choice
Booking with VIP Cars brings you several benefits which you won't find elsewhere. Major ones are stated as under:
Beneficial Add-ons: Our car rental suppliers for Malpensa Airport allow you to rent add-ons like GPS, child seats, and additional driver etc for a small fee. Every supplier offers its own set of add-ons.
Easy Modifications: You can get your car rental booking for MXP Airport modified by visiting VIP Cars' 'Manage booking' page. You can also contact our booking support for the same.
Numerous Car Categories on Offer: VIP Cars' partner suppliers offer a great range of car categories for hire at MXP Airport like Mini, Compact, Van/Minivan, Economy, Luxury, Convertible, Special, SUV and Intermediate.
How to Book a cheap car rental at Malpensa Airport (MXP) with VIP Cars?
VIP Cars is backed by a simple yet powerful booking engine that you can use to book a cheap car hire for Malpensa Airport in real-time online. Our booking engine features a wide range of filters that allows you to narrow down your search result and allows you to choose better.
Our booking process consists of 3 steps, explained as under:
Search: Fill the booking form given on the website and start searching for your cheap MXP Airport car hire.
Compare: After you click on search, our booking engine will display all the suitable deals. Apply filters, and look for the deal that best meets your requirements.
Book: The last step is to reserve your cheap MXP Airport car rental by paying a small security deposit.
The booking will be confirmed immediately via email, with which a voucher will also be emailed to your given email id. Present the same at your supplier's desk, pay the remaining amount and pick your rental without any hassle.
Car Rental Suppliers at Milan Malpensa Airport(MXP)
Numerous car rental companies have their counters at Milan Malpensa Airport. VIP Cars works hand in hand with all these suppliers and offers the best car hire deals for MXP Airport at the lowest possible prices. The following car suppliers have their car rental desks at MXP Airport:
Maggiore
Sixt
Locauto Rent
Goldcar
Firefly
Alamo
Europcar
Ace
Petrol Stations Located Near Malpensa Airport (MXP)
Most of the car rental companies offer full to full fuel policy, therefore, you will need to ensure that your car's fuel tank is full before returning, to avoid any additional fuel charges.
The following petrol stations are situated in close proximity to the Malpensa Airport where you can get your car hire refueled:
TOTALERG it is located 5 minutes from MXP via SS336dir
Eni it is located 10 minutes from MXP via SS336dir and SS336
Major Attractions nearby Milan-Malpensa Airport (MXP)
Northern Italy features an extensive road network and a car hire is certainly the best way to get around. The following are some of the most popular attractions/places in Northern Italy and can be reached easily from MXP Airport in a car rental:
Milan- The style capital of the world- features a stunning architectural scene, a European cafe culture, and luxurious shopping.

Average distance from MXP Airport: 50km
Average Time: 50 minutes
Shortest Route: En-route SS336 and A8 toll road.

Lake Como - One of the Europe's most aesthetically-pleasing spots.

Average distance from MXP Airport: 85 km
Average Time: 1 hr 20 min
Shortest Route: Via SS340

Monza - is renowned for its breathtaking architecture and pristine gardens.

Average distance from MXP Airport: 62 km
Average Time:1 hr
Shortest Route: En-route SS336 and A8 toll road
Italian Road Rules You Should Know
While driving your car hire in Italy, it is advised that you should make yourself acquainted with the country's road rules. Here's a quick guide:
In Italy, the primary driving lane is right.
Right turns during red lights are prohibited.
'Zona traffico' and 'Zona Pedonale' are the pedestrian streets that aren't open to cars.
Some basic words you must know while driving in Italy:

'Destra' meaning right.
'Sinistra' meaning left.
'Dritto' meaning straight.
'Uscita' meaning exit.
'Pedaggio' meaning toll.

All Italian roads and highways have speed limits. These speed limits are usually represented by a red and white circle, with a number (kilometers) written in between.
Inclusions Offered with our Milan Airport car rental Deals
Yes, booking with VIP Cars yields you a couple of inclusions, which includes Unlimited Mileage, Collision Damage Waiver (CDW), Theft Waiver (THW), Third Party Liability Insurance (TPL), Snow Chains and roadside assistance.
These are the most common inclusions offered by our suppliers, and since each supplier offers its own set, they may vary from deal to deal.
Available Drop-off Locations in Milan
At VIP Cars you can return your MXP Airport car hire at any of the following drop-off locations
Milan Bicocca
Milan Downtown
Milan Lorenteggio
Milan Train Station
Milan via Spezia
These locations are offered open both as pick-up and drop-off.
Milan Airport (MXP) – A Brief Guide
Milan-Malpensa Airport is one of the largest International Airports in Italy, second only to Rome Fiumicino Airport. MXP Airport is amongst the three airports that serve Milan and is located 50km northwest of the city center, next to the Ticino River. That said a regular shuttle service and 'Malpensa Express' train links the Malpensa Airport to the central Milan.
The Airport has two runways along with two terminals and a dedicated cargo terminal. It handles over 18 million passengers and over 500,000 tons of internal freight annually.
Key Facilities Available at MXP Airport
Banks at MXP Airport:
Automatic Teller Machines and currency exchange kiosks are present in both the terminals. 'Banca Popolare di Sondrio' and 'Banca Popolare di Milano' offer banking services in terminal 1 and terminal 2, respectively.
---
MXP Airport Wifi
Free Wi-Fi internet access is available throughout the Malpensa Airport. Public telephones and fax facilities are also available at both the terminals.
---
Food Options at MXP
Milan Airport houses a great selection of eateries, including pasta/pizza restaurants and Italian cafes. Some of the popular dining options are Aroma Cafe, Juice Bar, Sky Lounge Bar, McDonald's, and Briciole Bar etc.
---
Duty-Free & Other Shops at MXP
Milan Airport features a great range of shopping outlets, including duty-free shopping for passengers leaving the EU. Since Milan is widely renowned as a center of fashion, you'll find a plenty of clothes boutiques and jewelry retailers at the airport itself.
Milan Airport Car Rental – FAQs
What do I need to hire a car at Milan Airport?
Though the minimum age to be eligible to rent a car varies from supplier to supplier, in most of the cases 21 years has been observed to be the minimum age. If you fulfill this base criterion, you will be allowed to rent provided you have the following documents
A valid Driver's License; you will need to produce an International Drivers License if your license is not in Romans
Passport, or any other Identity Document issued by the country of your residence
A major credit card issued in the name of the main renter.
Do you charge for an additional driver?
The answer to this query totally depends upon the supplier. While some suppliers allow one additional driver at no extra charge, with others you have to pay a small per day rate. Check the vehicle's terms and conditions to know whether the add-on is being offered free-of-charge or not; you can also call our booking support team to know more.
Note:The additional driver has to provide the same documents at the time of pickup as the main renter.
Do you charge for delivery and collection?
It solely depends on the supplier and the services are available only on request. While some offer free delivery and collection, others do it for a fee.
What is the minimum period for which I can rent a car?
At VIP Cars, the minimum rental period is 24 hours, even if you want to rent a car for a few hours, you will be charged for the whole day.
Can I extend my rental?
Yes, you can extend your rental car, but you will need to request it – by contacting the supplier – prior to the termination of your current car rental booking.
Do I pay for fuel?
Yes. Most of the suppliers offer full/full fuel policy i.e. they provide the car rental with a full tank at the time of pickup and at the time of drop-off, it is the renter's responsibility to return the car with a full tank of fuel. In case you fail to do this, the rental office will get it refueled at your expenses.
Can I book an Automatic?
Yes, you can book an automatic car hire at Milan-Malpensa Airport. But if you're looking for an automatic vehicle, make sure you reserve it well in advance. This is because in Italy, locals prefer manual over automatic and thus, the availability is quite limited.
Road Trip from Milan to Rome
Take full advantage of your MXP car hire and have the time of your life while driving from Milan to Rome!!
Distance: 573.7 kilometers
Duration of Trip: 3 Days
Day 1: Parma
Milan to Parma - Driving time: 2 hr 38 minutes
Places to see in Parma
Palazzo della Pilotta
Galleria nazionale di Parma
Parma Cathedral
Sanctuary of Santa Maria della Steccata
Day 1: Bologna
Parma to Bologna - Driving Time: 1 hr 18 minutes
Points of Interest in Bologna
San Petronio Basilica
Towers of Bologna
Piazza Maggiore
Santo Stefano, Bologna
Suggested Accommodation in Bologna: Hotel Re Enzo
Address: Via Santa Croce, 26, 40122
Day 2: Fiesole
Bologna to Fiesole - Driving Time: 1 hr 41 minutes
Points of Interest in Fiesole
Convent of San Domenico, Fiesole
Fiesole Cathedral
Monte Morello
Villa Medici in Fiesole
Day 2: Montepulciano
Fiesole to Montepulciano- Driving time: 1 hr 31 minutes
Points of Interest in Montepulciano
Contucci - Winery
Piazza Grande
Nobili-Tarugi Palace
Palazzo Comunale
Day 2: Orvieto
Montepulciano to Orvieto - Driving Time: 1 hr 9 minutes
Points of Interests in Orvieto
Pozzo di S. Patrizio
Orvieto Cathedral
Torre del Moro
Museum Dell'Opera del Duomo Orvieto
Suggested Accommodation for the Overnight Stay: Hotel Duomo
Address: Via di Maurizio, 7, 05018
Day 3: Calcata
Orvieto to Calcata - Driving Time: 1 hr 11 minutes
Points of Interest in Calcata
Parco Valle del Treja
Monte Soratte
Associazione Bunker Soratte
Narce
Day 3: Rome
Calcata, Italy to Rome- Driving Time: 1 hr 7 minutes
Points of Interest in Rome
Colosseum
Pantheon
Trevi Fountain
Roman Forum