Car Rental Luxembourg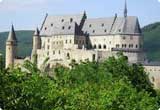 The capital city is named after the country and is often called as Luxembourg City. For such a small country, the capital city really knows how to pack a punch. Crammed with attractions, some of the most famous include the early Middle Ages' Luxembourg Castle, a stunning construction at the heart of the old town, Fort Thungan, a previous defensive stronghold which is now incorporated into the city's modern art museum, the high Gelle Fra war memorial, the Adolphe Bridge, which spans some city gorges, Neumunster Abbey, the administrative Town Hall, Grand Ducal Palace and the impressive Gothic Revival Cathedral of Notre Dame.

The cityscape is incredibly attractive, both during day and by night time. And, Luxembourg City sits near beautiful areas of outstanding natural beauty. A rented car from VIP Cars allows visitors to merge city cultures with natural attractions. Drive around on your own, as you capture the city's key attractions with your rental car.