Car Rental Macedonia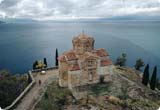 A country situated in the central Balkan Peninsula in Southeast Europe, Macedonia is one of the Europe's last unexplored countries with lakes and rivers and a natural paradise of mountains.

Macedonia is a small-scale country but there are lots of things to see in it. Its capital Skopje is the leading city and forthcoming European city, with the Vardar River flowing right through it. It has large number of sights worth seeing- Kale fortress is sort of a city symbol. Exactly below it lays the good-looking Old Bazaar with various cafeterias and restaurants. Its foremost sights are Kurshumli An, St. Spas Church, and more.
Other fascinating sights are the Millennium Cross on the topmost of mountain Vodno and the Memorial House of Mother Teresa. To visit every local destination at your own terms, a car rental services proves to be a good idea. Find most economical deals with us now!