Car Rental Ohrid Metropol Lake Resort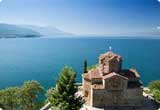 OhridMetropol Lake Resort is located in Ohrid, which is a tourist hot spot of the country. The resort is 7 kilometers south of the Ohrid city. It features beautiful and enigmatic features. The beach is only 800 meters of distance from the resort. The resort is also landscaped with pine woods, gardens and overlooks the National Park Galicica and lake. It is also equipped with 370 rooms, along with suites. OhridMetropol Lake Resort is the only hotel that has the largest rooms in the entire city of Ohrid.
Staying at the OhridMetropol Lake Resort will give you ample opportunities to explore some of the important places and sights of architecture in Ohrid. Since the resort is within close proximity of major sights, tourists can move around hassle-free and enjoy a great vacation at the resort with a car rental. Book in advance to plan your itinerary when in Ohrid.