Car Rental Ohrid Airport [OHD]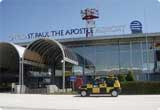 Ohrid airport is also known as Ohrid St. Paul the Apostle Airport. The distance between the airport and Ohrid is only 6 miles and with a rental car booked online, you can commute to and from the airport as you like.
Ohrid is a unique old town, with many interesting old buildings and architecture to view. It is made up of stunning and mesmerizing frescoed roman theatre and churches, as well as, the Turkish fortress. Last but not the least; Ohrid is incomplete without the beautiful and panoramic Lake Ohrid. Boat trips on the lake, will prove to be a sheer pleasurable moment of your life. While rowing your boat in the lake, you can catch a glimpse of the Ohrid city. For art and music lovers, a visit to Ohrid during the summer season is a must deal because every summer, the city organizes Balkan Festival of Folk Songs and Dances.