Car Rental Skopje Downtown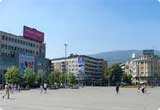 Being the capital of Macedonia, largest city of the country and a hub of culture, heritage and business, Skopje downtown is immersed in a pond of modern, as well as, traditional components. There is something available at the Skopje downtown for every tourist and locale. From the Old Town, Old Bazaar, St. Panteleimon to Stone Bridge, Skopje is infused with a panoramic essence. The Stone Bridge at the Skopje downtown rises immaculately over the Vardar River.

It is the city's central part and is a source of connection that bridges the gap between the new and old part of Skopje. The Macedonia Square is a tourist spot, which is enlightened by the Statue of Alexander the Great. Shop till you drop at the Bit Pazar, Old Bazaar or GTC, which is the city's largest shopping Centre. Getting around Skopje downtown can only be easy if you choose VIP Cars and its numerous rental options and deals.