Car Hire Malta Downtown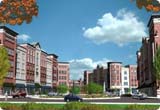 Malta Downtown has all the things that one would expect from a central and busy area; numerous hotels and restaurants, lively bars and clubs, intimate secluded venues, recreational activities, shops galore, and some great things to see. There are several historic and cultural attractions near to Malta Downtown, and there is a blend of architecture. There is a real feel of old meeting new in Malta Downtown.

Rapid development and modernisation is mixed with old buildings and landmarks. Malta Downtown is a good place to start from when wishing to explore the rest of Malta. Whether you want to gaze across beautiful landscapes and scenic panoramas, chill out on pretty beaches, hit the party spots or learn about the local culture and history, a rented car is an optimum way to hit all of Malta's high spots. VIP Cars arrange pickups across Malta Downtown for your complete convenience.