Car Rental Guadalajara Airport [GDL]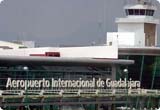 Guadalajara Airport serves the city and surrounding communities. It is a large facility that due to the importance of this town has many different airlines which come and go from the terminals. The largest Northern American airlines which offer serve out of Guadalajara airport are Delta, Aero Mexico and American Airlines. Additional charters and discount carriers further provide service. The airport has the major facilities. Many stores and shops offer goods. Products sold range from local artisan crafts, to expensive perfumes and jewelry. Concession and convenience stores offer common items that traveller need. Additionally, many restaurants are present in the restaurant such as Starbucks, Burger king and other Mexican chains.Tourist services, VIP Lounges and banking services are round up the list of services available at this facility.

Once you arrive in Guadalajara, you can rent a car from VIP Cars, which is the easiest way to get around.