Car Rental Los Cabos Airport [SJD]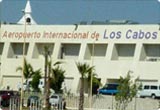 Los Cabos Airport serves both international and domestic destinations and is the 7th busiest airport in Mexico. The airport code is SJD. There are three terminals in the airport; Terminal 1 serves both domestic and international operations for various carriers, Terminal 2 only serves international destinations, and usually Terminal 3 has flights from Alaska Airlines, Delta Air Lines, Frontier Airlines and several other seasonal international airlines. A 4th terminal is being built. There are great facilities and amenities for passengers. Airlines include Aeromexico, Alaska Airlines, Delta Airlines, Frontier Airlines, US Airways, Volaris, and WestJet.

The number one option for car rental at Los Cabos Airport is the trusted and reliable, VIP Cars.