Car Rental Playa Del Carmen Downtown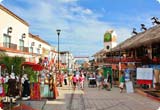 Playa Del Carmen Downtown is at the heart of the lively and pulsating city. Previously a small fishing community, the area underwent rapid developments due to a major increase in the number of tourists choosing to vacation in the area. It is home to an abundance of places to stay, as well as hundreds of different shops, a plethora of places to eat, and a wide variety of different bars and clubs. Whether you are looking for a pumping disco, a sophisticated wine war, a cocktail bar, or a chilled out pub, you will find it all in the downtown area. The famous Fifth Avenue is a must when in the city; visitors can spend hours, sometimes even days, wandering the street and pausing at the eclectic mix of stores and food and drink outlets.

Hire a car from VIP Cars to make the most of your trip.