Car Rental Auckland Airport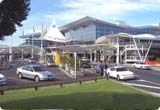 Get ready for your dream ride in the astoundingly beautiful port city with Auckland Airport car rental from VIP Cars. Choose your travel date, select vehicle type, compare deals, and boo a car rental at Auckland Airport in just three easy steps.

VIP Cars offers value for money car rental deals at Auckland Airport through its network of trusted suppliers such as, Ace Rental Cars, Jucy Rentals, Go Rentals, Alamo, Apollo Camper, National, New Zealand Scotties, ACE, and Europcar. Choose from a large fleet of rental cars, ranging from economy drives to four-wheel transmission SUVs.

Auckland International Airport

One of the biggest airports of New Zealand, Auckland International handles more than 14,829,393 passengers annually. Situated near Airport Oaks and Mangere, a residential suburb, the airport serves as a primary hub for Air New Zealand and Virgin Australia. Located about 13 miles south of Auckland downtown, Auckland International is one of the two airports in the archipelago capable of handling jumbo airliners such as, Boeing 747, Boeing 777, and Airbus A380.

Terminal Facilities at Auckland International

As the airport remains one of the most busy terminus in the entire Australasia, extreme care has been taken to provide top notch passenger friendly amenities.

Currency Exchange: There are plenty of money changing facilities located within the International Terminal. Besides several ATMs, you can find sizeable number of mobile phone hire and Internet kiosks.

Fine Dining & Shopping: You can munch delicious food of your choice, as there are numerous cafes, bars, and restaurants within the airport complex, including the Jean Batten Food Court. Enjoy duty-free shopping at more than 75 retail outlets engaged in selling variety of exquisite merchandise.

Other Facilities:

You can find an array of other facilities such as, medical center, children's play area, museum, massage centers, golf course, a chapel and car rental desk at Auckland airport.

Driving Directions

Auckland Airport is exclusively accessible by two highways, State Highway 20A and State Highway 20B. State Highway 20A touches the airport in its north and provides a direct route to enter central Auckland, northern and western suburbs, and Northland. State Highway 20B leads to airport's east and lets you drive to eastern and southern Auckland, and North Island. To reach airport from the city, you can choose the southern motorway from city center. Look for the Gillies Avenue exit once you reach Manukau City.

Now get to and from Auckland Airport with a car rental booked in advance!