Rent a cheap car at Auckland Airport
Know all the details about booking a cheap car rental in New Zealand at Auckland International Airport through VIPCars.com as we let you compare the rates of New Zealand's leading car hire brands. Making the most of our alliance with New Zealand's renowned car rental companies, including Sixt, Ace Rental Cars, AeroDrive, Alamo, Apollo, Bargain, Drive, Enterprise, Europcar, Go Rentals, Hitch, Jucy, Omega Rental Cars, Snap and Thrifty we get you the cheapest and the best available car hire in New Zealand.
Our user-friendly booking engine not just allows you to compare the latest deals, but also saves your time and effort by cutting short the need to browse multiple websites for checking rental cars and their tariffs for airport rentals at Auckland Airport.
Booking a rental car at Auckland Airport to have a great time in New Zealand's Auckland city
Reserving a car rental online has endless benefits with comfort & convenience being the just a tip of the list. Making online car hire reservation with VIP Cars is simple and quick but also cheaper as you get to compare multiple Auckland airport rental deals from different suppliers for the same date and time, picking the most suitable one.
Why rent a cheap car hire through VIPCars.com at Auckland Airport?
Providing the best car rental brands, along with the best bargains, VIP Cars is undoubtedly the right place to book your rental car for Auckland Airport. At VIP Cars we offer:
All Inclusive Pricing

VIP Cars offers AKL car rental deal inclusive of taxes, airport surcharge, and other associated costs. Thoughtfully planned filters help you in finding an appropriate vehicle. You can prioritize your results by applying multiple filters provided on our website.

Renowned Suppliers, Large Rental Car Fleet

VIP Cars, in collaboration with globally as well as domestically renowned car rental companies, offers a wide range of rental car fleet to choose from. Whether you are in Auckland for sightseeing or a business trip, we offer a wide range of rental car models to suit your commuting requirements, starting from budget-friendly compact/economy and standard/intermediate to rugged SUV, full size as well as spacious van/minivan.

Value for Money

Our class leading booking engine lets you compare car rental deals of various leading rental companies. We give you an access to a wide range of car rental brands to compare, saving you from the hassle of tracking down rental fleet of individual supplier. You can easily compare and instantly book a value for money AKL car hire deal, which comes with no hidden charges.

24/7 Customer Support

With a dedicated customer support team always ready to assist you with your queries related to car hire at AKL, you can get in touch anytime should a need arises.

Easy Cancellation

VIP Cars offers free cancellation if you decide to cancel your Auckland Airport car hire deal 24 hours before the pick-up time.
Where to locate car hire agencies at Auckland Airport, New Zealand?
If you are arriving at the Auckland Airport on an international flight, you can find car rental desks just outside the Customs Hall. However, if you are arriving at the airport on some domestic carrier, you will find the car hire companies' offices located opposite to the car parking building.
Why to prefer rental cars over conventional transportation services in Auckland?
Although an urban transportation system exists in Auckland, it is bound by strict time schedule. Moreover, it requires you to change 2-3 buses in order to reach your preferred destination. Whereas, hiring a car from Auckland Airport gives you immense freedom to plan your visits at your own convenience. VIP Cars also gives you an option to drop your rental car off at Auckland downtown and Penrose, located about 11 km southeast of downtown.
Information about Auckland Airport
Being a major hub and a gateway to New Zealand, Auckland Airport is the largest and the busiest airport in New Zealand. The airport is situated near the suburb of Māngere, 21 km away from the Auckland city center.
Catering to both international and domestic flights, this airport is a major civil aviation hub of New Zealand and is regarded among one of the best airports of the Australia-Pacific region.
Well equipped with basic amenities, this NZ airport has two terminals; one for international flights and the other caters to domestic arrivals/departures.
| | |
| --- | --- |
| Address: | Ray Emery Dr, Auckland Airport, Auckland 2022, New Zealand |
| IATA Code: | AKL |
What Kind of facilities are available at Auckland Airport?
A major civil aviation hub of New Zealand, Auckland Airport, also known by its IATA code AKL, is one of the best airports of the Australia-Pacific region. International & Domestic terminals at Auckland airport are known to have rental desks from top brands along with many shops, eateries, banking & other facilities.
Tourist Information Kiosks
Designated Areas for Smoking
Shopping at Auckland Airport
Shop with ease at Auckland Airport, the gateway to New Zealand. With several top-notch brands present at the Airport Shopping Center located near the George Bolt Memorial Drive and John Goulter Drive, and as well as at the Domestic and International terminals, one can find everything, from New Zealand-inspired souvenirs to luxury products. However, the following two duty-free stores remain immensely popular owing to their larger product assortment and value for money deals.
Aelia Duty-Free
The multi-brand duty-free merchandise store features a huge collection of confectionery products, liquor, apparels, and cosmetics. Aelia Duty-Free also allows you to shop online and collect the consignment before you fly.
The Loop Duty-Free
The Loop duty-free multi-brand retail outlet specializes in selling fragrances, beauty products, wines, and electronics' goods. You can order your favorite products online 12 hours before your departure from the airport.
Dining at Auckland Airport
Eat fresh at Auckland Airport, which is home to so many renowned restaurants and fast-food joints. We present you with the names of leading eating outlets that offer fresh food round-the-clock.
Burger King
The world-famous fast-food retail chain offers a wide range of hamburgers, fries, salads, wraps, and cold and hot drinks.
Dunkin Donuts
Everyone's favorite Dunkin Donuts serves an incredible variety of donuts, along with other surprise snacks at the airport.
KFC
The widely acclaimed fast-food joint is known for its hot & spicy chicken, chicken fillet burger, wicked wings, and crushers.
Urban Market Cafe
The full-fledged restaurant offers everything that you may ask for, including snacks, hot and cold drinks, meals, and desserts.
Hayama Sushi
Experience the true taste of an authentic Japanese cuisine, including nigiri, ramen, donburi, sushi, miso, and udon.
McDonald's
The friendly fast-food joint is known for its burgers, chicken nuggets, delicious wraps, drinks, and a variety of salads.
Sumo Salad
The salad bar is known for its selection of salads, in addition to wraps, toasties, rolls, pasta, hot drinks, and soups.
Wishbone
The restaurant is known for its large menu, offering a wide range of eating options such as muesli, soups, bread, and juices.
Lounges at Auckland Airport
Don't let your layover at the airport result in an unwanted fatigue. Auckland Airport features the region's best plush lounges that allow you to sit in relaxed settings. Equipped with all the latest passenger amenities, the lounges are accessible after buying a lounge pass or paying at the door.
Air New Zealand Koru Club
Air New Zealand Koru Club
Air New Zealand Koru Club
Car Rental tips for Auckland Airport, NZ
Keep these driving tips in mind as you get ready to accelerate:
Drive on the left side of the road. Most of the motorways are two-way and face slightly heavy traffic from 7 am to 9 am and from 5 pm until 7 pm.
All the distances and recommended speed limits are in 'kilometers' instead of 'miles'.
The airport is located about 20 km away from Auckland city center.
Do not forget to select air-conditioning in 'car specifications' filter if you plan to hire a car between December to March, a considerably warmer season.
While finding a right vehicle at a busy airport can be a challenging task, an advanced Auckland Airport car rental booking allows you to hit the road in no time and start your sightseeing trip. Ready to make your visit a delightful experience? Book your Auckland Airport car rental today.
Things to do in Auckland, New Zealand
Get ready to experience the best of New Zealand's biggest urban area. Besides countless awe-inspiring sites, Auckland is home to various trendy bars, classic restaurants, and merchandise stores. In nutshell, Auckland seamlessly blends luxury and adventure like no other place. For a city that offers so much in terms of sightseeing, hiring a car at Auckland Airport seems to be the most logical option. Using a rental car abundantly helps to move around North Island. Check out the list of Auckland's top attractions: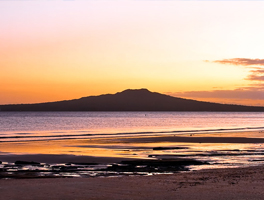 Rangitoto Island
Address: Hauraki Gulf; accessible via ferry service from downtown Auckland
---
Visitor's Time: 24 Hours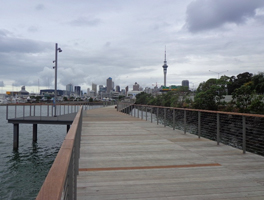 City Walks Z
Address: 89 Quay Street, Auckland 1010
---
Visitor's Time: 10 am - 1 pm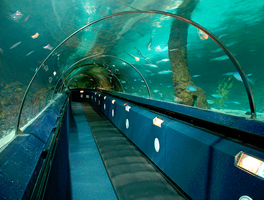 Kelly Tarlton's Sea Life Aquarium
Address: 23 Tamaki Dr, Orakei, Auckland 1071
---
Visitor's Time: 9:30 am – 5 pm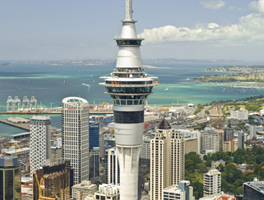 The Sky Tower
Victoria Street & Federal Street, Auckland 1010
---
Visitor's Time: 9 am - 10 pm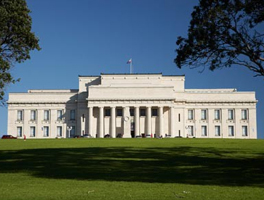 Auckland Museum
Address: The Auckland Domain, Parnell, Auckland 1010
---
Visitor's Time: 10 am - 5 pm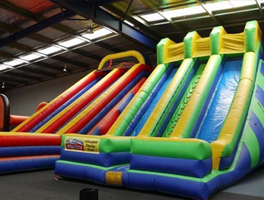 Bounce and Beyond
Address: 10a Kerwyn Avenue, East Tamaki, Auckland 2013
---
Visitor's Time: 10 am - 5 pm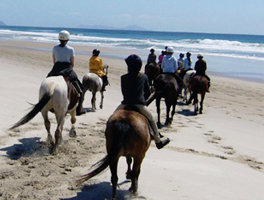 Pakiri Beach Horse Rides
Address: 317, Rahuikiri Road, RD2, Wellsford 0972
---
Visitor's Time: 8:30 am - 6:30 pm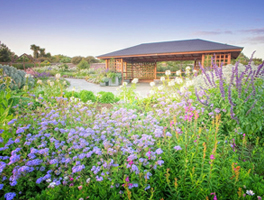 Auckland Botanic Gardens
Address: 102 Hill Road, Auckland 2105
---
Visitor's Time: 8 am - 8 pm