Car Rental Vajnorska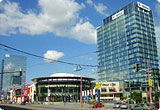 Vajnorská is a handy location to pick up a rental car in order to head off into the city to explore everything that it has to offer. VIP cars can provide a range of vehicles, to suit your needs, at most economical prices.. You could start by heading to the imposing Bratislava Castle, which has had an interesting history and includes being rebuilt several times. Devin Castle is also an interesting place to visit although it is in ruins now. It is an important archaeological site and has a museum that explains the history of the castle.

Bratislava is not all about architecture. There are also many parks in and around the city, some of which are landscaped areas, others of which are forested. The Forest Park sits in the Little Carpathians and is mostly made up of oak and hornbeam, which makes for a natural home for badgers, foxes, wild boar and a number of deer species.